Update day old chicks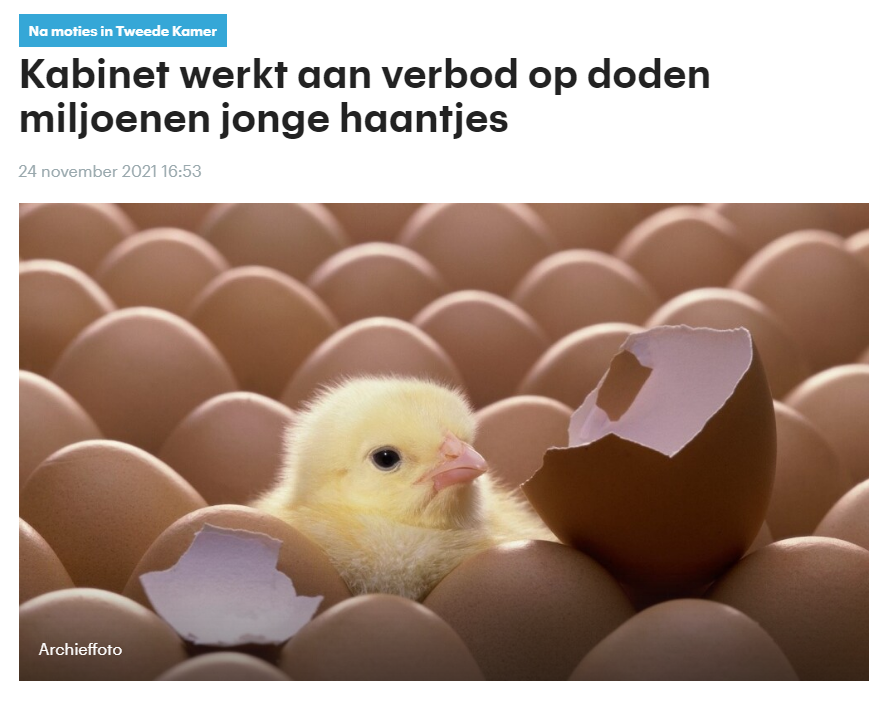 On Wednesday 24 November, Dutch news reported that the House of Representatives is working on a ban on the killing of day-old roosters. This report states that 40 million roosters are killed annually by means of gasification or the shredder. We can inform you that in the Netherlands not a single rooster is going into the shredder. All roosters are sold as high-quality animal feed.
We understand that such messages worry you about the availability of chicks in the future. However, it is slowly becoming clear that a complete ban also leads to animal suffering. Austria is currently preparing legislation, leaving room to continue to produce the necessary rooster chicks in Austria for local needs. This will mean a new political option. We hope that this will also lead to a transition to a more nuanced policy for the other EU Member States.
As a sector (poultry farmers, egg sorting, distribution and hatchery sector and us as a sales channel), we are in contact with politicians and the ministry in order to hopefully arrive at a nuanced decision. The Netherlands is a major export country of day-old chicks. Banning the killing of roosters will be very disadvantageous for the Netherlands, export will then no longer be possible because the price of the chicks will become too high. The proces to determine the sex currently increases the cost price of the laying hen by approximately €3.50. We hope that a dual policy will be decided in the Netherlands. This means that hens will be produced for the Dutch egg market for which no roosters have been killed. There will be an exemption for hens that are produced for export, these roosters may still be killed in the normal way, provided they are then used as animal feed for exotic animals. In concrete terms, this will mean that the amount of available rooster chicks will decrease by 50%.
All farms from which we purchase roosters have recently had egg grading machines. These are not yet fully deployed, but more and more. In addition, many roosters are raised to be used for meat. We see the chick numbers that we receive every week decrease. To fill this gap, we are currently setting up production of day-old roosters for animal feed outside the Netherlands. We are at an advanced stage with one party and we expect to be able to start at the beginning of 2022. The numbers will decrease in the Netherlands, but there are still plenty of roosters available in Europe. It is expected that not all countries will soon adopt the ban on killing day-old roosters.
In view of the developments, prices will rise further as of 1-2-2022. Our cost price will rise sharply as of 1-1-2022 due to the aforementioned developments and Corona-related price increases. In addition, we have to make substantial investments to produce and import the chicks elsewhere. We expect availability to be guaranteed for the time being, but unfortunately all developments will increase the price in the near future.
As soon as there are new developments, we will inform you in good time.
Source photo: https://www.rtlnieuws.nl/nieuws/politiek/artikel/5269446/kabinet-wil-doden-jonge-haantjes-verbieden
Back to the overview